This is a parts kit, not a completely assembled firearm.
These pistol kits come with new barrel, gas tube, gas piston, pistol trunnion, recoil buffer, hammer spring, disconnector spring and 1/2-28 RH threaded barrel. No furniture is included with this kit.
This setup will allow the use of a standard lower handguard. 
The front sight, gas block and rear sight block are all drilled and pinned to the barrel. The gas port has also been drilled. The barrel pin is pressed most of the way in and will need to be removed anyway to rivet the trunnion into the receiver. The headspacing has also been set before drilling and reaming for the barrel pin.
This does not come with a receiver or of any kind.
The pistol parts kits come with just the main parts, no furniture, no rivets, no center support, no receiver flat, no rails and no tools.
The picture below is of a pistol built on these parts with a Polish black pistol grip, Command Arms Handguard and used AK magazine.  Those parts must be purchased separately.  The Command Arms handguard has to be modified to fit the handguard retainer and only the lower part of the handguard can be installed without more fabrication and modifiecations to the upper handguard.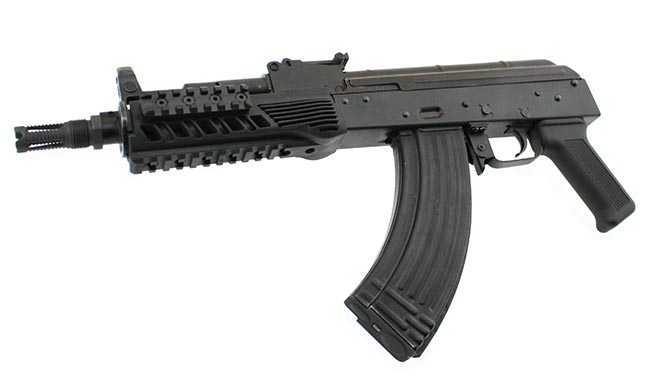 This is a parts kit, not a completely assembled firearm.