The new long rear trunnion rivets have a slightly shorter head and the cupped tool that supports the rivets will need to be sanded down to keep the tool from touching the receiver.  Be sure to check this before installing the new black rivets.

These have the correct swell necks for the countersunk holes in the trunnions.
In my never ending quest to bring the best US made rivets to the builders I have been having numerous rivets made. I sell these to several manufacturers that swear by them and won't buy rivets from anywhere else.
You can't find more complete rivet sets with the different sizes of rivets with the correct style heads anywhere.
All rivets have been black oxide coated.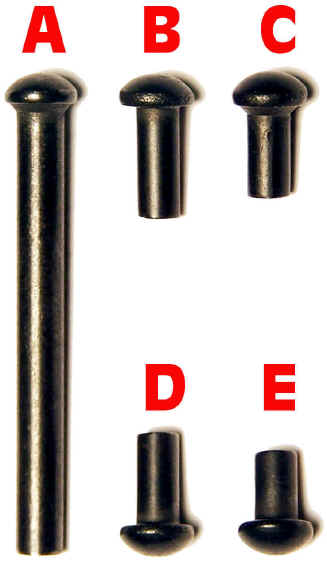 A- Long Swell Neck For Rear Trunnion or Yugo/RPK Front Trunnion

B- Upper Front Trunnion or Pistol Grip Mount Rivet for Yugo M70 Fixed Stock

(M70 Underfolders use standard length rivets on all three pistol grip mount holes)
C- Short Swell Neck for Front Trunnion or Rear Trunnion
(countersunk holes use swell neck rivets)

D- Short Non-Swell Rivet for Flat Front Trunnion Holes, Front Four Rivets on Trigger Guard, Rear Rivet on Trigger Guard if using reinforcement plate and pistol grip mounts on Yugo's.

E- Shortest Rivet for Rear of Trigger Guard on Non-Yugo's or when not using a reinforcement plate.
Rivet sets for the following are available:
Standard AKM with solid rear trunnion

AKS Folding Stock or Polish Underfolders

Yugo M92 Underfolder

Yugo M70 Fixed Stock

Yugo M70 Underfolder

Polish Tantal

AK74 Sidefolder

AK74 Fixed Stock w/Forked Trunnion
The new long swell neck rivets for these were ordered to fit any forked rear trunnion.
The rear trigger guard rivets will be the shorter length like the originals. For the underfolder and sidefolder sets I will include the short and long rivet in case you will be using a reinforcement plate.
 

AKM

AKS

M70 FIXED

M70 UNDER
FOLDER

M92

TANTAL

74 SIDE
FOLDER

FEG SA85

AK74 FIXED

Romanian Fixed Stock or

Maadi Fixed Stock


X

 

 

 

 

 

 

 

 

AK47 using our Pistol Trunnion or Modular Trunnion


X

 
 
 
 
 
 
 
 

Romanian Side Folder

Maadi Side Folder


X

 

 

 

 

 

 

 

 

Romanian Underfolder

X

 

 

 

 

 

 

 

 

Hungarian AMD 65

X

 

 

 

 

 

 

 

 

Hungarian AMD 63

X

 

 

 

 

 

 

 

 

Polish Underfolder

 

X

 

 

 

 

 

 

 

Hungarian AMMS

 

X

 

 

 

 

 

 

 

Yugo M70AB1

 

 

X

 

 

 

 

 

 

Yugo M70AB2

 

 

 

X

 

 

 

 

 

Yugo M92 Krink

 

 

 

 

X

 

 

 

 

Polish Tantal

 

 

 

 

 

X

 

 

 

AK74SU/Khyber Pass Triangle or Polymer Sidefolder

 

 X

 

 

 

 




 

 

Hungarian SA85

 X

 

 

 

 

 

 

 

 

AK74 Fixed Stock w/Forked Trunnion

 

 

 

 

 

 

 

 

X